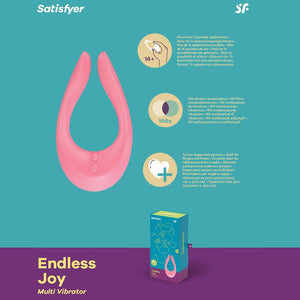 The Endless Joy pleasures your libido with a very special shape with 3 powerful engines inside that can be artfully integrated into your lovemaking: While one of them is in the voluminous, upper main body, each of the others in the lower tip of the two curved pleasure arms provide exciting vibes. This means: Whether against, on top of, in, under, or in between - the pink all-rounder stimulates you the way you need it! The two lower motors can be controlled separately from the upper head, so that both parts of the vibrator have 10 varied vibration programs to offer. With 2 buttons, you can create as many as 100 combinations.
In terms of versatility, the silicone partner pleasure-bringer is hard to beat: The curvy shape is gently flexible, but is still robust. The silicone surface of the skin pleases the skin with a silk matte Silk Touch Finish and also has a delicately nubby structure on the underside of the applicator head.
Thanks to its ergonomic U-shape the two Satisfyer Partner Multifun are suitable to use as a penis ring, a perineum stimulator, a nipple massager… and many more ways to enjoy, up to 14 different ways!
- USB Rechargeable
- IPX7 Waterproof
- Body-friendly silicone
- Easy to clean
- 3 high-powered motors
- 100 vibration combinations