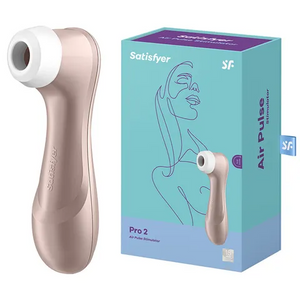 The Satisfyer Pro 2 enables multiple and incredibly intense orgasms within minutes. With its oval head, innovative vacuum technology and touch-free massage, it provides an extra dose of pleasure. The new Satisfyer Pro 2 is waterproof, providing even more fun, especially underwater.
FUNCTIONS/OPERATION
Press the small button at the bottom for 2 seconds to turn the toy on. This activates the lowest massage setting on the Satisfyer Pro 2. Spread the labia apart a little to free the clitoris. With gentle pressure, place the oval head on your clitoris, making sure the head is situated comfortably in the hollow. Once you've found the ideal position, you won't need to move the toy again.
Tip: if you use a water-based lubricant such as Wicked Aqua it will feel even better. You can achieve even more intense pulsation by using the Satisfyer Pro 2 underwater (e.g. in the shower or bath)
You can control the vibration intensity using the larger oval button. Every time you press this button, it will increase the intensity by one level. There are 11 levels of intensity for you to choose from. Reduce the intensity again from level 11 by pressing the larger oval button. The LED on the control panel will
remain lit whilst the toy is in use.
Press the smaller button again to turn the toy off.
CLEANING
The Satisfyer Pro 2 is waterproof and very easy to clean – you can even use a cotton bud to clean the nozzle. For optimal cleaning we recommend using a special sex toy cleaner such as Wicked Cleene. Leave it to work its magic for a while, then simply wipe it off with a soft, lint-free and clean cloth.
CHARGING
A stroke of genius: this product is rechargeable and has easy, cable-free handling! It is important to charge the product fully before first use – this is easy with the supplied USB charging cable: simply dock the cable on the metal contact point of the toy provided for this purpose. If the charging cable does not attach by itself, connect it to the power circuit and wait for a moment – this will reactivate the magnetic effect and the contact will connect automatically. The LED will blink while the product is being charged. Once the product is charged, the LED will stay lit.