Nauti Parties Founding Principle
To provide quality products that will enhance sexual enjoyment. All while providing a fun and educational experience in the safety of your home with friends and family. Making discussions around sex and sex toys more comfortable and open.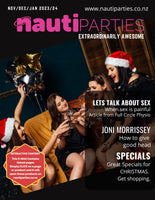 NautiParties E-Mag Nov-Dec-Jan 23/24
Read our latest E-MAG with great specials, articles and content to tickle your love bone or pulsate your pretty peach
CLICK HERE to read
What are they saying about NautiParties
OMG WHERE DO I BEGIN. How about the fact that the consultant was fantastic! She was the perfect balance of fun, educational and non judgmental. She was so comforting to talk to and you can tell she completely loves what she is doing. In no way is she at all pushy she is 100% on your side wanting to get you the best deal for the best way to help you out.
My party was awesome! Simple as that. We had SO MANY CHOICES! I had single girls boys and couples at my party and there was multiple choices for everyone and funny as games during with cute prizes! We all got super competitive especially with the sex facts, long story short we had a great time! Bought lots of goodies and it was so good one of my friends has a party of her own and a few us went again and got more!

And just to keep your mind at rest everything can be anonymous and I mean everything so there is no need for embarrassment because it's such a safe environment all because of NautiParties fantastic consultants.
ANONYMOUS HOST (for privacy reasons)
Host your own party by filling in the booking enquire CLICK HERE
Sample of parties catalog
Nauti Parties
A great reason to get friends together and have a great night in while being introducted and presented with our fantastic range of adult toys........ Click below to enquire further
CLICK HERE