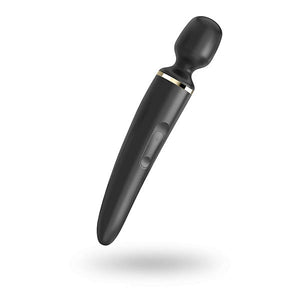 Mirror mirror on the wall, why can't I relax at all? Your new massager from Satisfyer provides the remedy: finally a companion that doesn't complain about giving you a generous massage! Thanks to its impressive XXL size and the hidden power behind its seductive silicone head, the Wand-er Woman solves problems, relieves tension, and scratches any orgasmic itch. The shaft of the massager is made of medical grade silicone, which is especially soft and gentle against your skin. In addition, the rounded head skilfully reaches every part of the body craving relaxation. A relaxing solo, or the crowning highlight of a romantic spa session for two? The Satisfyer Wand-er Woman performs well in any situation thanks to its relaxing magic.
Thanks to the power of a total of 50 different vibration combinations, the Wand-er Woman will dissolve any tension it encounters. Choose from 10 different vibration styles and combine them with 5 intensities: whatever kind of vibration you want, the Wand-er Woman has it!
- Medical grade silicone
- Rechargeable including USB charging cable
- Stimulating full-body massage
- 50 powerful vibration settings
- Massage head for intensive stimulation
- For maximum deep relaxation, you can also enjoy the massager's magic in the bathtub because the toy is waterproof.
- Weight: 674 g.
- Length: 340 mm
- Breadth: 57 mm
- Height: 78 mm
- Material: ABS plastic, Silicone